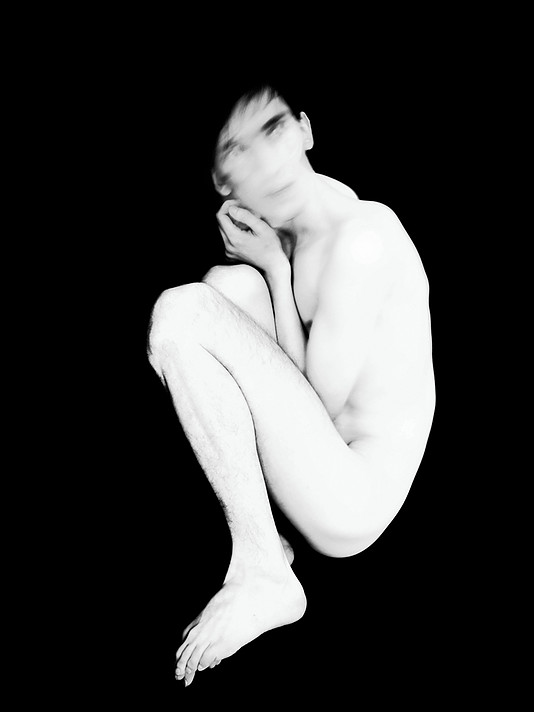 interview / igor pisuk / by alva mac gowan

// what purpose does photography have for you? // the first picture i captured in the "deceitful reverence" series, was was taken while i was in lodz in poland. the reason why it was important to me was because it was captured shortly after returning from two months of treatment for alcohol addiction in an enclosed institution. i went to the bathroom one evening, i was naked and when i saw my body in the mirror i realized that i was terribly skinny and gaunt. i felt like i was watching a different person, someone else, like a ghost. not me  i took my camera and i made a self-portrait to document this moment. so, at the beginning photography started to be and still is a kind of diary, poem, therapy, a substitute for drugs and now is a way of life for me. taking pictures helps me to feel more intensely. it is also a tool which keeps me alive.
// do you work in any other medium besides photography? if not is there another medium you would like to explore in the future? // when i was studying in film school i experimented with video art. at that time i tried to be transformed into a bird or a dog. it was quite "normal" that when my girlfriend came back from school, she saw me naked jumping on the furniture, trying to fly or chase insects… it helped me with transcending my own boundaries (physical and mental). in the future i'm planning to experiment more with text and photographs – i want to mix these two media in a photobook which i would like to publish next year.
// are there any other artists and photographers that inspire you at the moment? // my biggest inspiration is ordinary everyday life, but of course i also love to watch movies, read books and see exhibitions. many photographers are important to me, two of the photographers whose work i admire are antoine d'agata and jacob aue sobol, with whom i had the pleasure to meet at their master class in silkeborg, denmark this year. i also admire the work of daido moriyama, jh engstrom, anders petersen, albert elm, cyril costilhes. i think that the polish photography scene has become very strong. there are so many crazy talented young photographers like wiktoria wojciechowska, karolina jonderko, magdalena świtek or marlena jabłońska and many others. in terms of film i like michelangelo antonioni, wong kar waii, jim jarmusch or sofia coppola movies a lot.
// you grew up in poland and are currently living in sweden, how does your environment impact on your work? how has it evolved since moving to sweden? // i was born in the small town of bielsko-biala in the south of poland. as a child, when i was 9 years old i regularly moved house and changed school. it had a huge influence on my personality, i used to have problems in my daily contact with peers and my environment in general.  later my parents separated. from that moment i lived with my sister, maternal aunt and grandparents in a very small flat in my hometown. when i was in high school i lost both of my grandparents. i felt very isolated and started to play truant – obsessively spending my time in the library, reading camus, sartre, celine and things like that. my favourite book at that time was 'the catcher in the rye'. i was drinking excessively. at the beginning it was giving me courage and strength but soon it became a nightmare and i was addicted. the real breakthrough was when i moved to lodz, which at the time looked like a film set from a world war II movie. during my worst stage of drinking i had many hallucinations. they scared me so much that one day i just wanted to finish myself. taking pictures helped me survive. i wanted to show those past and present states of mind and feelings in the most expressive and sincere way. at that time i met a girl from sweden whom i live with today in stockholm. however, my "new world" in sweden could not be described as a type of paradise; language problems, lack of friends and no profession were all obstacles i encountered, so i was taking pictures all the time. it was pure action, without any plan or instruction – very instinctive i was walking around with my small, cheap camera every day for many hours, photographing everything which aroused my curiosity. i wanted to show the chaos and the feelings that were within me that time.
// you describe your current work "deceitful reverence" as a personal documentary about inner feelings and dreams. how would you describe your dreams? // the dream state, first of all is a spiritual experience for me which is very important and inspiring. what is most interesting for me is the collision and mixing of both worlds: reality and dreams. while shooting i try to express that spirit in dream-like visions. i like to observe how these worlds intertwine and overlap. i think that words do not have enough potency to describe dreams. so, i prefer when someone has an opportunity to see my pictures, then they can read for themselves how i visually try to describe something spiritual.
// your pictures speak for themselves with a loose narrative, what do you think they say about you? // i think that they say a lot about me. however, because it's  a very personal project i prefer not to explain too much. it is better when the viewer has a chance to make their own interpretation.
// much of your work is nocturnal and in black and white, are you more creative after dark? // i feel more comfortable after dark, that's for sure, i have more energy, and it's easier to focus, but i shoot both in the day and night. i don't have any special rules.
igor pisuk / born: 1984 / nationality: polish / currently based: stockholm, sweden / pisuk sees his photography as a kind of diary, poem, therapy, or even a substitute drug that helps him feel more intensely when attempting to make sense of the chaos and feelings within him. in his current series 'deceitful reverence' pisuk attempts to capture ordinary everyday life in highly spiritual dream-like visions observing how both worlds of reality and dreams intertwine and overlap.